Professional Video Game Web Design Services Overview
DreamCo Design knows exactly what the gaming industry is looking for when it comes to their websites. Because there are so many avenues that video game websites can take it is important to go with a video game web design company that understands the entire gaming community. Being that a majority of our employees are gamers themselves, it is easy for us to understand your project and for us to insert additional passion in making sure that your video game web design solution is handled the way it needs to be.
Our video game web design solutions include websites for clans, guilds, gamers, review sites, game developers, studios, and more. We have also developed web-based games for businesses looking to our team to get the job done. DreamCo Design has the skill set to help you with your project no matter what your needs may be. Looking for a great looking website to represent your guild? Consider it done. Need a forum with interactive features and social media tie-ins? We can do that too. Need a members only database, in-game purchase functionality through a website, or powerful branding to help launch a new title? We are here to help every step of the way. Our video game web design company knows what it takes to deliver a website that looks great, functions well, and is poised for traffic. We can even help you market the website once everything is complete.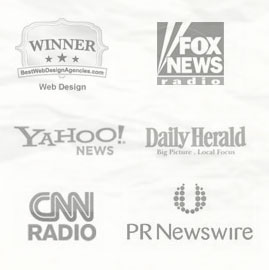 Hey, did you know?
DreamCo Design has been featured in various national media outlets, has an (A) rating with the BBB, and won the 2013 NKCC Small Business of the Year Award.
a few other facts and details...
» We have clients in all 50 states & some internationally
» We're a certified Google ad agency
» We offer 50/50, 3mo, 6mo, and 12mo payment options
» Rank in the top 1% for custom web design volume nationally
» We've completed over 1,500 website projects
» We support & have done work for major charities
» Provide free monthly updates to all of our hosting clients
We are confident our video game web design company can offer you the exact solution you are looking for and we hope to have the chance to partner up with you soon. For more information on our video game web design services, email us today or give us a call using the number below.
1-866-572-3434