Professional Restaurant Web Design Services Overview
DreamCo Design is a professional restaurant web design company that designs, develops, and markets websites for the restaurant industry.
Our restaurant web design solutions help restaurants increase business, stay organized, answer questions, and put out an ultra professional image that helps drive traffic in the door. We've been relied upon by major food chains, small mom-and-pop restaurants, and others in the food industry all across this great country, and continue to have success doing so because we understand the food industry and how important it is to have a great website.
Our restaurant web design solutions are crafted specifically for each and every restaurant we work with, as no two restaurants are the same. Whether you have an existing website needing some updates or are just getting started in the restaurant business and need to get online, DreamCo Design can help.
Our professional restaurant website design services often involve marketing as well. Our team can help make sure your website dominates the local search results when people are seeking out a restaurant and we can also help you on the PR end of things by bolstering your recognition with social media marketing.
Most of the restaurant web design projects we take on involve setting up high quality looking websites that feature information about the restaurant, menus, photo galleries, contact information, reviews, as well as social media tools. In other situations we even incorporate things like online ordering systems which we can develop, or integrate, should you already have a service in place.
At the end of the day our restaurant web design company knows what it takes to develop a website that looks great, functions well, and is poised for traffic.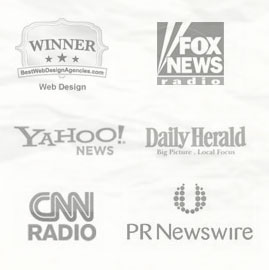 Hey, did you know?
DreamCo Design has been featured in various national media outlets, has an (A) rating with the BBB, and won the 2013 NKCC Small Business of the Year Award.
a few other facts and details...
» We have clients in all 50 states & some internationally
» We're a certified Google ad agency
» We offer 50/50, 3mo, 6mo, and 12mo payment options
» Rank in the top 1% for custom web design volume nationally
» We've completed over 1,500 website projects
» We support & have done work for major charities
» Provide free monthly updates to all of our hosting clients
The design and development possibilities are endless with DreamCo Design. Our restaurant web design solutions even include website optimization (SEO) which helps you show up well in the local search results. DreamCo Design is the nationally recognized restaurant web design company you need to partner with if you are serious about taking your restaurant's online presence to the next level. We are confident we can offer you the exact solution you are looking for and hope to have an opportunity to partner up with your restaurant. Thank you for considering our team.
1-866-572-3434