Professional Paranormal Web Design Services Overview
Paranormal web design certainly is a niche in the world of website development. DreamCo Design has worked side-by-side with some of the biggest names in the paranormal field, making us the clear choice if your paranormal group or organization is serious about setting up something professionally.
Being that our team has been directly involved in paranormal research and exploration, we have a specific insight to the industry and are familiar with the terms, wants, and needs which are part of most paranormal websites.
Trying to develop and grow recognition? Done. Want to upload audio (EVPs), videos, pictures, and content, quickly, and dynamically? Done. Need a true, custom, incredible design that sets the tone and atmosphere, professionally? Done. The days of cheesy paranormal websites are over and to be taken seriously, you need a serious team that knows how to get the job done the right way.
DreamCo Design is here to help you with all of your paranormal web design projects. We understand that most organizations in the paranormal field are self funded and we have pre-established set functionality to give you the tools you crave and the custom design you need on a budget.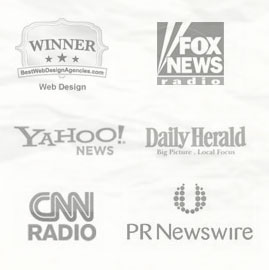 Hey, did you know?
DreamCo Design has been featured in various national media outlets, has an (A) rating with the BBB, and won the 2013 NKCC Small Business of the Year Award.
a few other facts and details...
» We have clients in all 50 states & some internationally
» We're a certified Google ad agency
» We offer 50/50, 3mo, 6mo, and 12mo payment options
» Rank in the top 1% for custom web design volume nationally
» We've completed over 1,500 website projects
» We support & have done work for major charities
» Provide free monthly updates to all of our hosting clients
By working with DreamCo Design you can have the opportunity to work with a group of people that are as passionate about the subject as you are, creating a one-of-a-kind relationship between you and our paranormal company or group.
For more information on our paranormal web design services, please feel free to call us. You can also use the links to the left to find out more about our custom paranormal web design solutions. Thank you for considering DreamCo Design.
1-866-572-3434