Professional Modeling Web Design Services Overview
DreamCo Design is a modeling web design company that designs and develops websites for models, modeling groups, talent agencies, and others in the modeling business. We've worked with models looking to have a portfolio style website and our team has also done work for modeling agencies looking to have a very professional online presence with a website that helps them stay organized and attract new business. We've even worked with talent agencies and social networking communities developed just for models. With DreamCo Design, there is really no limit on what is possible. Ourmodeling web design solutions are crafted on a case by case basis, allowing your website to be built around your specific needs, no matter what they may be.
By having a website built by DreamCo Design you are telling your users and visitors that you care about your business and how you are portrayed on the internet. Our modeling web design solutions have given many of our previous modeling web design clients the jumpstart that they needed in their business or career.
We see models everywhere in society today, in our print, on our websites, in ads, on commercials, and in runway shows. They are very influencial in society to determine what type of clothing we wear and what looks good in terms of beauty. This is why there are so many websites that cater to the needs of models and the modeling industry. It's time for you to get your modeling website on the internet with everyone else. In many cases, model websites are rather simple, making them inexpensive as they typically just have photo galleries, a bio, and perhaps a contact form.
Other scenarios in the modeling industry call for much more on the functionality side of things, but no matter what your needs may be, DreamCo Design is here to help.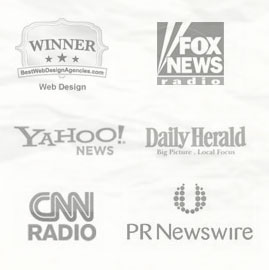 Hey, did you know?
DreamCo Design has been featured in various national media outlets, has an (A) rating with the BBB, and won the 2013 NKCC Small Business of the Year Award.
a few other facts and details...
» We have clients in all 50 states & some internationally
» We're a certified Google ad agency
» We offer 50/50, 3mo, 6mo, and 12mo payment options
» Rank in the top 1% for custom web design volume nationally
» We've completed over 1,500 website projects
» We support & have done work for major charities
» Provide free monthly updates to all of our hosting clients
If you are in search of modeling web design company look no further than DreamCo Design.
Have questions? Ready to get started with getting a professional modeling web design solution put together? Contact us by phone or email today. We look forward to talking to you about your project.
1-866-572-3434