Professional Landscaping Web Design Services Overview
DreamCo Design knows what it takes to develop a landscaping website design solution that will help take your business to the next level. Our talented team works with you like a partner and the end result is you are left with a professional landscaping website that looks great, funcitons well, and is poised for traffic.
Our team works with you to help make sure that your company is the one that shows up when someone does a search and we also help make sure your business is represented the best it can be with a professional website. These days, a landscaping company needs every advantage it can get from its website. With competition at an all time high, the importance of properly demonstrating where you serve, what your work is like, and what types of things you can do has never been more important. We make your website the main element in your marketing effort and help you get the traffic to it so that the website actually helps your business.
Most of the landscaping web design solutions we develop involve content management tools that allow you to easily keep your website up to date with the latest portfolio pictures. We even make it easy for you to change out content so that you can state seasonal specials and other things that often require updating such as the testimonials you get from your customers.
DreamCo Design has been relied upon by landscape companies from all across the U.S. We take great pride in the partnerships we've developed as our team has assisted with business growth which has stemmed from having a professional online presence which we've been able to provide. Whether you're a large landscape firm looking for a powerful and professional online brand or are a small lawn maintenance company that needs a great image online, DreamCo Design is here to help.
Once your website is done we continue to work with you on the marketing side of things, helping with ongoing search engine optimization, pay-per-click, and social media marketing options. We even include a great deal of SEO items for no additional charge. For DreamCo Design, it's all just part of the professional landscaping website design process.
Forget the do-it-yourself site-builder tools and those silly pre-built packages offered by other website companies. With DreamCo Design you get a professional solution that is engineered to help your business make the very most from its online presence. Concerned about cost? Don't be. DreamCo Design also offers a price match policy as well as a handful of finance options, allowing you to get a professional website regardless of budget.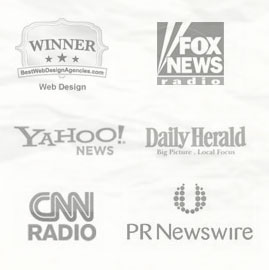 Hey, did you know?
DreamCo Design has been featured in various national media outlets, has an (A) rating with the BBB, and won the 2013 NKCC Small Business of the Year Award.
a few other facts and details...
» We have clients in all 50 states & some internationally
» We're a certified Google ad agency
» We offer 50/50, 3mo, 6mo, and 12mo payment options
» Rank in the top 1% for custom web design volume nationally
» We've completed over 1,500 website projects
» We support & have done work for major charities
» Provide free monthly updates to all of our hosting clients
For more information on DreamCo Design and our landscaping website design services, give us a call or send us an email. We are confident our landscaping web design company can offer you the exact solution you are looking for, and we look forward to partnering up with your business.
1-866-572-3434