Professional Contractor Web Design Services Overview
Are you a contractor or construction company looking for a website to represent your business? Look no further than DreamCo Design. Having a professional contractor website design solution in place is one of the best investments a contractor can make in today's day and age and that is exactly what DreamCo Design is here for.
Our team knows what it takes to develop a contractor web design solution that represents your business professionally, all while bringing in new customers that are looking to get a quote. With the competition so fierce, and with a website being the modern day storefront, a professional website has never been more important than it is today. Just having a website is not good enough these days. You need a website that looks great and one that is easy to find. It needs to represent your work, showcase your portfolio, and make getting a quote easy. Our team partners up with small businesses as well as large construction companies in helping them get the very most from their website.
We've helped contractors from all across the country grow their business, even with a tough economy, by putting technology to work even on a limited budget. One of the most important things to remember about DreamCo Design is that our company works with you from a consulting perspective. We don't just throw you into some pre-boxed solution and send you on your way. Our team is here to review your ideas and goals so that we can develop a custom plan built around your specific needs, helping you get the very most out of your website. We even offer payment options for those on a budget that still need to get online the professional way.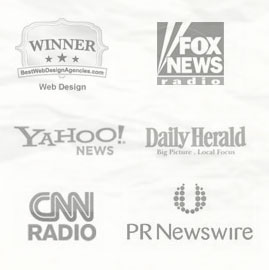 Hey, did you know?
DreamCo Design has been featured in various national media outlets, has an (A) rating with the BBB, and won the 2013 NKCC Small Business of the Year Award.
a few other facts and details...
» We have clients in all 50 states & some internationally
» We're a certified Google ad agency
» We offer 50/50, 3mo, 6mo, and 12mo payment options
» Rank in the top 1% for custom web design volume nationally
» We've completed over 1,500 website projects
» We support & have done work for major charities
» Provide free monthly updates to all of our hosting clients
DreamCo Design lets you focus on your day-to-day contractor work while we focus on building your brand and online representation. Along with developing great websites we also help contractors with their online marketing needs. We help contractors with pay-per-click advertising, search engine optimization, social media marketing, printing, and more. All of it always comes back to having a professional website in place and that is exactly what our team is here for. To get a quote and to learn more about what DreamCo Design can offer your company, call or email us today.
We are confident our contractor web design company can offer your business the exact solution you are looking for and we hope to have the chance to partner up with your company. Thank you for considering us.
1-866-572-3434