Professional Charity Web Design Services Overview
DreamCo Design has designed and developed websites for charities both small and large. We've worked with some of the largest, most trusted charitable names out there such as Amistad International, Habitat for Humanity, Foundation for His Ministry, as well as other large charitable organizations. Our professional charity web design solutions are crafted on a case by case basis, allowing your charity to get the very most from your online presence.
Rather than just building you a website and sending you on your way, our team partners up with you for the long run. It is our goal to help you maximize on your website's potential and that is why our consultants spend time with you to learn about your goals, likes, dislikes, and all the things you are looking to accomplish as a charity. No matter how large or small your project may be, our team will be here to help. We've helped charities just get online with a simple yet beautiful website and we've also helped others by implementing robust functionality to accept donations, manage services, and more. The possibilities are endless when your charity partners up with DreamCo Design. Building professional charity web design solutions is just what we do.
Often times, when seeking out a charity website designer budget is the main concern. DreamCo Design invests in the charities we work with, often times offering our services for a significantly reduced cost. We also offer payment options to help make the burden a bit easier when necessary. Our goal is to help you and your charity out and to be a long-lasting partner with helping your organization.
There are no restrictions as to the types of charities we work with as our team has partnered up with a diverse group of 501 organizations such as organizations overseas in Africa, orphan based charities, military outreach groups, and much more. Our charity web design company starts the process by pairing you up with a web development consultant that will help you focus your goals and ideas so that we can put together a plan uniquely designed just for you. Our proposals serve as both our contract with your organization as well as the website's architecture, making it very clear what the solution we are going to deploy will include for your charity. Once we get started, our team keeps you in the loop every step of the way and then is there to support you once everything is done as our charity web design company also provides marketing services for charities, as well as the hosting that is necessary to keep the website up and running.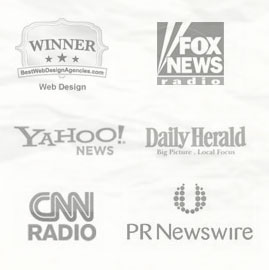 Hey, did you know?
DreamCo Design has been featured in various national media outlets, has an (A) rating with the BBB, and won the 2013 NKCC Small Business of the Year Award.
a few other facts and details...
» We have clients in all 50 states & some internationally
» We're a certified Google ad agency
» We offer 50/50, 3mo, 6mo, and 12mo payment options
» Rank in the top 1% for custom web design volume nationally
» We've completed over 1,500 website projects
» We support & have done work for major charities
» Provide free monthly updates to all of our hosting clients
For more information on our professional charity web design services or to learn more about what our company can do for your organization, simply give us a call or send us an email. You can also utilize the links to the left to learn more. We look forward to partnering up with your organization and we appreciate your consideration. Email us today or call using the number below.
1-866-572-3434